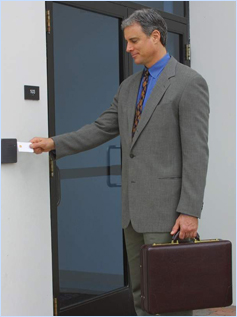 1. Reduce costs by eliminating changing locks.
When an employee leaves your organization and fails to return his keys, you may have to get all the locks replaced. Compare that to having an electronic access control system where a simple click of the mouse will deny that person access to the building. You will also avoid the common problem of lost or stolen keys. Now, that will save you money!
2. Know who comes and goes in your building at all times
Your access control system allows you to easily run a report on individual card holders, access areas or a number of other variables. Some companies use these reports for their time-and–attendance.
3. Keep certain parts of your building accessible to the public while securing other areas for employees only.
In many buildings there is a mix of daily traffic of public visitors and staff members. Your access control system will allow visitors to enter, but will keep them from going past restricted doors. No need to make your visitors feel unwelcome by overbearing security systems. Simply manage the flow of people in public and restricted areas easily with your access control system.
4. Protect crucial areas
Not everyone in your organization should have access to every area. With an access control system, you can program different levels of restricted access. Simply give your employees access to different areas according to their status and security clearance.
You will also have the ability to manage certain situations better. For example, an event could unfold that calls for a security lockdown or a security lockout. You can prepare for these situations by programming a scenario where only people with the highest level of security clearance can enter or exit the building.
5. Promote employee honesty
Not only does a card access system help you manage the security in your building; it will also serve as a deterrent for employee dishonesty and fraud. It's hard to determine exactly how much of this behavior you would prevent, but one thing is for certain, if you take away the opportunity, you'll avoid some of the problems. And that alone may save your organization a lot of money.