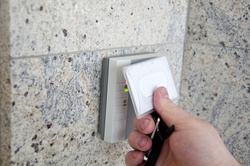 Access control is becoming a more essential security feature for most businesses today.
Elite Systems provides Access Control systems that will allow you to restrict and track access into designated areas of your facility. We support your business by designing and managing an electronically controlled accountable facility by protecting sensitive information and providing a safer work environment for your employees.
With this electronic technology, there is no more expense of re-keying your building or installing new locks if keys are lost or not turned back in. With the ability to duplicate mechanical keys, there is minimal security actually provided by mechanical keys today. Access cards or fobs can be easily deactivated, or if needed, a new updated one can be issued.
At Elite Systems, we provide management support from our office and local central station to assist you with user and system changes. Most client requests will often be addressed and completed within minutes of the request.
We support the most basic access control designs up to complex, integrated security system with technology ranging from standard proximity to highly secured biometric readers.